Mode of operation
(Bron: MyIntercom)
The IP-based video-intercom system myintercom combines design, comfort and unique features, for iPhone, iPad, and Android.
The doorbell of the door station, the speech and the camera images are transmitted to your Smartphone or tablet, while you are at home (2) or on the road (3).
You can talk from anywhere with your visitors, see them and open the door.
The recent 20 visitors are archived with picture and date/time within the history.
Optionally, an additional door chime (4) can be connected in the interior area.
With a separate existing door opener button (5), the door can be opened even when the smartphone is turned off.
Both connections are recommended.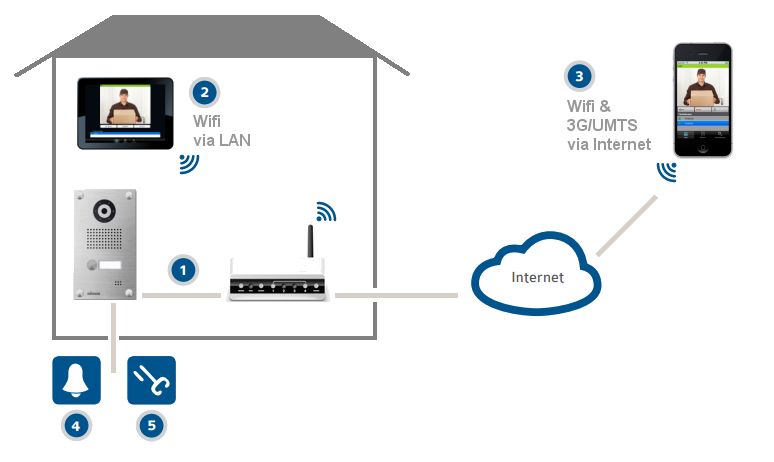 Simple installation
All you have to do is connecting the video door station to the power supply and network cable (1) or 2-Wire module / Homeplug/Powerline-Adapter at your door.
Thanks to 1000eyes® technology, the system is immediately ready for use.
The audio signals and the camera images are transmitted via your Internet router to your iPhone, iPad and Android devices.
Both at home in the local area network (LAN) or on the road, without any range limitation, securely encrypted over the Internet (WAN) or 3G / 4G.
On your Smartphone or tablet, you can simply install the App from the Apple App Store or Google Play.
Klaar.
Unique features
- When pushing the door bell the signal is sent to your Smartphone or tablet (sound and Push-Notification)
- Live view and talk (two-way), no matter where you are in the world
- Built-in very high-quality HDTV image sensor from Axis Communications, for a sharp and clear image
- Intercom with excellent speech quality
- Door opening and turning on light by a simple touch on the screen
- The recent 20 visitors are archived with picture and date/time within the history
- Works in the local area network (LAN) and on the Internet (WAN) securely encrypted and without range limitation
- Connection facility for an additional door chime and optional button for opening the door from inside, if the smartphone or tablet is not available
Toepasbaarheid op de verschillende devices